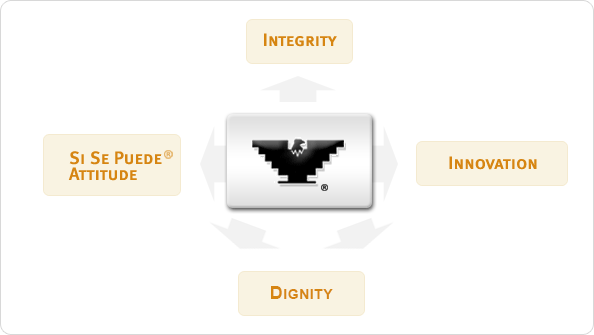 Integrity: Doing the right thing even when no one is looking
Si Se Puede® Attitude: A personal and organizational spirit that promotes confidence, courage, hard work, and the belief that we can do the impossible.
Dignity: Recognizing and respecting the inherent worth of all people.
Innovation: The active pursuit of new ideas.
Founded in 1962 by Cesar Chavez, the United Farm Workers of America is the nation's first successful and largest farm workers union currently active in 10 states. The UFW continues to organize in major agricultural industries across the nation. Recent years have witnessed dozens of key UFW union contract victories, among them the largest strawberry, rose, winery and mushroom firms in California and the nation. 75 percent of California's mushroom industry is now under union contract. In 2007, the United Farm Workers signed its first contract with Salinas, Calif.-based D'Arrigo Bros., California's third-largest vegetable company. The agreement covers 1,800 farm workers in the Salinas and Imperial valleys. The UFW signed a contract, also in 2007, with Three Mile Canyon Farms, America's largest dairy-and the first major union contract protecting farm workers in Oregon. They soon signed up another nearby dairy, Willow Creek. Many recent UFW-sponsored laws and regulations aide farm workers; in California, the first state regulation in the U.S. prevents further heat deaths of farm workers. The UFW is also pushing its historic bipartisan and broadly backed AgJobs immigration reform bill.